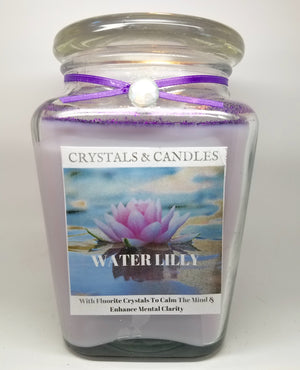 Water Lilly-Fluorite Crystal Jewelry Candle
Sale price Price $31.99 Regular price
Water Lilly is a Fluorite Crystal Candle with a Special Jewelry Surprise hidden inside. 
Fluorite is a powerful crystal to enhance the mind. It is the ultimate stone for focus, making it an ideal stone for meditations.It helps to calm your thoughts and keep the mind from senseless chatter.
Fluorite Helps ground excessive energy particularly mental, emotional, and nervous energy. It is a powerful cleanser to  the aura. An excellent stone  to help  with the connection to the Akashic records for answering questions regarding past lives.
Nicknamed the "Genius Stone",Fluorite is an excellent stone for meditation and increased concentration making it a great addition to have in the work area or  while studying any subject. It will enhance the ability to grasp and understand concepts learned.
21 oz
Scent -Water Lilly