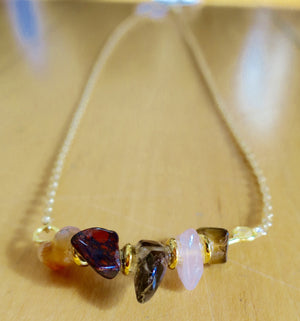 The So Confident Necklace- Crystal Companion Jewelry
Sale price Price $12.99 Regular price
Do you sometimes doubt yourself? Do you feel that you are not smart enough, strong enough, or good enough?
The So Confident Necklace  is a special intention necklace that may help you to combat these harmful feelings that keep you form being the best you that you already are. This  magical jewelry piece includes all the crystals the help you to feel strong, confident, and unstoppable.
The Genuine crystal combination of super power energy includes:
Carnelian- Banishes emotional negativity that is common in low self esteem. A powerful stone that helps you go after what you want , boosts motivation , and helps you believe in yourself to achieve your desired goals 
Red Jasper- a stone of will power. Red Jasper provides the energy to create the life you want by helping you to step out of your comfort zone and believe in your ability to achieve.
Smokey Quartz- Rids the mind of insecurity. Keeps you grounded so you do not sweat the small stuff.
Rose Quartz- Helps you to love yourself and accept yourself as you are
TIger's Eye- Brings focus and confidence.  Helps to motivate you to go after what you want with the eye of the tiger
Necklace measure 18" in Length.
Combine with the So Confident  Crystal Candle to maximize your power