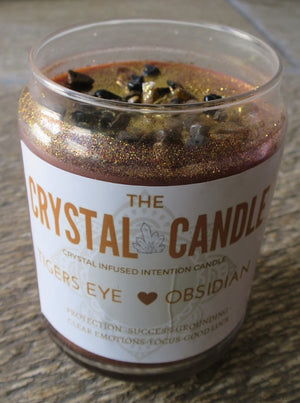 The Crystal Candle- Tiger's Eye & Obsidian
Sale price Price $24.99 Regular price
The Crystal Candle is a special intention candle that fills your environment with Harmony, balance, and strength.
We start by combining a long burning, highly scented  soy/vegetable blend candle with the power of genuine Tigers Eye and Obsidian  stores. 
Tigers Eye and Obsidian are both grounding  stones that will aid you  in all your basic survival needs.  Their powerful energies will help you to conjure up the strength and motivation to work toward all that you want or wish for.
 They will help to bring the following:
-Motivation
-Success
-Release Fear, Disharmony ,Resentment
-Grounds Energy
-Brings Calming,Centering  Energy
-Protective, Cleansing Away Psychic Smog
-Negativity Shield, Relieve Negativity
-Helpful with past Life Work (Obsidian)
-Stimulates Your Ability To Manifest Your Dreams And Desires
Candle size is 21.641 oz/640 ML
Scent is Bake Shoppe
PLEASE NOTE- This item is special and made to order. Please allow 2-3 days processing.