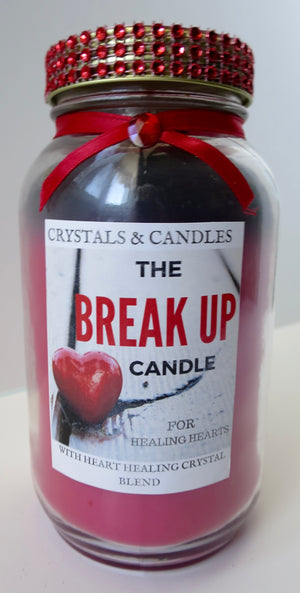 The Crystal Candle- The Break Up Candle For Healing Hearts
Sale price Price $29.99 Regular price
MY MOST POWER PACKED CRYSTAL CANDLE!!
Don't Get Confused. If you are looking for a  hex candle to break up a couple...This is not the one.
The Break Up Candle is a candle to help heal  hurting hearts after a break up. My Most power packed  Crystal  Candle with emotional healing crystals to help turn your sad, grieving energy back into happy balance.
A great gift for yourself or a loved one who may be going through heartbreak.
Healing Crystals include:
Rose Quartz-Soothes Grief
Aventurine-Tranquilizes Nerves
Amazonite- Pacifies Worries And Fears
Amethyst- Releases Negative Thoughts/ Helps With Acceptance
Citrine- Promotes Happiness
 Smokey Quartz- Helps To Let Go
Turquoise-Promotes Understanding
Moonstone- Peace
Blue Kyanite- Release Anger
***Available in 2 sizes 32 oz Mason Jar
                               16 oz Mason Jar