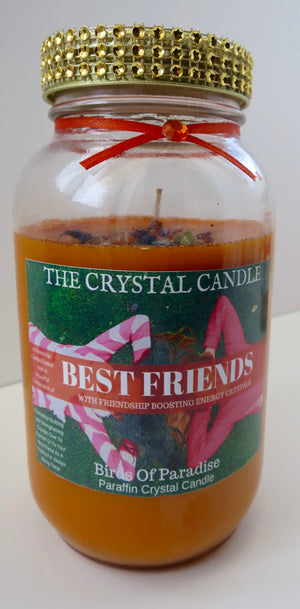 The Crystal Candle- The Friendship Candle
Sale price Price $16.99 Regular price
Have you been looking for a way to thank your best friend for  being..Well..Your best friend?
The Friendship  Candle may just be that perfect gift you have been looking for. The Friendship candle was formulated using just the right prescription of friendship building and strengthening crystals. Give to your bestie as a gift of thanks for always being there.
Each Friendship Candle includes the following genuine gemstone crystals;
Carnelian-Strengthen Friendships
Lapis Lazuli-Truth ,Companionship 
Garnet-Ecouuages friendship and optimism
Aventurine-The best crystal for  real and lasting friendship .
Rose Quartz-Encourage Friendship & Love between friends
Scent - Birds of paradise
Available sizes  16 oz Mason Jar
                    32 oz Mason Jar 
Add Best Bitches Friendship Charm Necklace for $10 (Includes 2 necklaces with opposing  half heart charm)