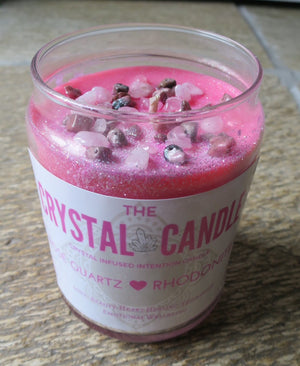 The Crystal Candle-Rose Quartz & Rhodonite
Sale price Price $24.00 Regular price
The Crystal Candle is a special intention candle that fills your environment with loving compassionate energy. 
We start by combining a long burning,highly scented  soy/vegetable blend candle with the power of genuine Rose Quartz and Rhodonite stones. 
Use to bring love, compassion, heart healing and beauty into your being and/or your space. 
Rose Quartz and Rhodonite are known emotional heart healers. They will help to bring the following
-Compassion
-Brings Love into your life
-Release blocked energy within the heart
-Stimulates acceptance, forgiveness, & unconditional Love
-Healing relationship problems
-Brings friendships
-Used for beauty rituals or when working to love yourself and see yourself as beautiful
Candle size is 21.641 oz/640 ML
Scent is Sweet Pea
PLEASE NOTE- This item is special and made to order. Please allow 2-3 days processing.