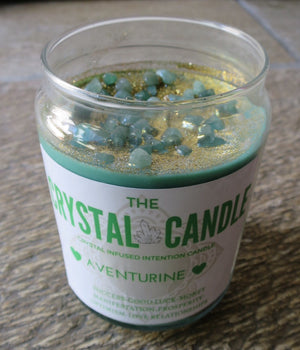 The Crystal Candle- Aventurine
Sale price Price $24.00 Regular price
The Crystal Candle is a special intention candle that brings good luck and enhances the energy in your chosen space.
We start by combining a long burning, highly scented  soy/vegetable blend candle with the power of genuine Aventurine stones.
Use to bring luck, prosperity, or strengthen leadership into your being and/or your space. 
Aventurine is also an  emotional heart healer. It is a good anxiety reducer that will help relieve stress.
Aventurine will help to bring the following
-Prosperity
-Money 
-Leadership Strength
-Brings good Luck
-Better Life
-Absorbs  Environmental Pollution
-Balacnes spacial energy bringing a "Feel Good" Environment
-Candle size is 21.641 oz/640 ML
Scent is Juniper Breeze
PLEASE NOTE- This item is special and made to order. Please allow 2-3 days processing.