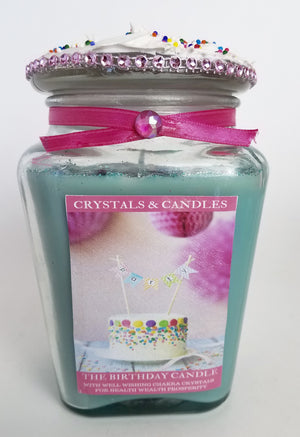 The Birthday Candle Deluxe Crystal Candle-Jewelry Candle
Sale price Price $32.99 Regular price
Possibly the best birthday gift a person could receive!
The Birthday Candle Deluxe Crystal Candle is a powerful and scrumptious looking scented candle with genuine gemstone energy.
The energy crystals are a the perfect wishful combination of chakra crystals for health wealth and Happiness. All the good things most people wish for on their birthday.
Crystals toppers include a mix of the following to encourage  positive life energy:
Root- Garnet
Sacral- Carnelian
Solar Plexus- Citrine
Heart-Peridot
Throat- May vary and  contain Blue Quartz, Lapis Lazuli, or Sodalite
Third Eye- Amethyst
Crown-Quartz
This item is made to order. Please allow an additional 3 days prior to shipping.
Scent Birthday Cake
21 oz