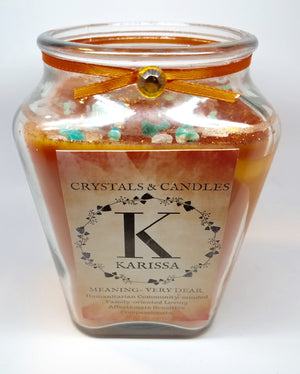 Personal Power Candle-With Jewelry Surprise
Sale price Price $34.00 Regular price
All of us human beings  are unique. Each of our energy works in different ways. What works for one may not work for all.
Because we understand the power of your uniqueness, the Personal Power Candle was born.
Your personal Power Candle is a specially prepared Crystal Candle designed and personalized  to work with your own unique  energy. 
The Personal Power Candle crystal  is formulated incorporating  the energy of your birth date, name, and zodiac sign. Because each of these  holds a powerful energy exclusively to you. Consider this kind of like your very own spiritual combination. 
We prepare a candle using this energy to combine a personalized crystal blend. Your personalized crystal blend includes crystal that have been chosen to complement your birth sign strength and weaknesses. 
You also receive a personalized pamphlet all about you. It's simply the perfect gift!
21 oz Candle 
Please Note-All Candles are made to order. Please allow 2-3 lead time for all orders.
Please specify your Name, Birthdate at time of order in the memo section at checkout.