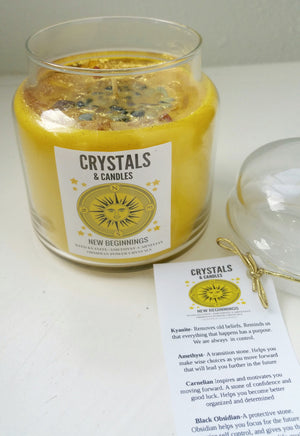 New Beginnings Resolution Candle
Sale price Price $26.99 Regular price
Inspired by the New year and the age old resolutions that come with it. The New Beginnings candle is a year round resolution candle. Because there is no one day or time of year that is designed for positive changes. So do not limit yourself to the first of the new year. 
We are human and constantly evolving and adapting to change. The New Beginnings candle will help you transition from the place you are to the place you want to be. With the help of these powerful crystal friends:
Kyanite- Removes Old beliefs that may be holding you back or which may pop up and discourage you when trying to make positive changes. Kyanite reminds us that everything that happens has a purpose and that we are always in control.
Amethyst- A transition stone. Amethyst helps you make wise choices that will move you into the future and lead you further. 
Carnelian- Inspires and motivates you toward your future.A stone of confidence and good luck. Carnelian will help you become organized and determined to work toward the positive future ahead.
Black Obsidian- A protective stone. Black Obsidian helps you focus for the future, exercise self control, and gives you the strength and courage to make your  resolutions (future life goals) a reality. Black Obsidian also helps remove emotional blockages that may be holding you back.
Candle scent:Grapefruit Mangosteen- a sweet and fruity sensation
Candle Jar Size -20 oz
CANDLES ARE MADE TO ORDER. THERE WILL BE A 2-3 DAY LEAD TIME PRIOR TO SHIPPING