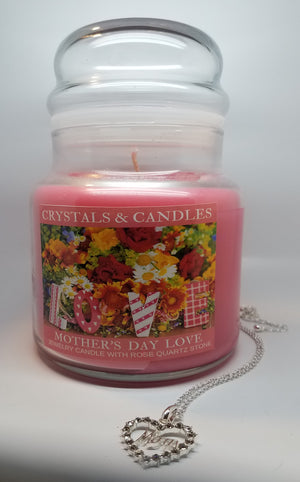 Mother's Day Love - Jewelry Crystal Candle With Rose Quartz
Sale price Price $31.99 Regular price
A special jewelry candle made especially for moms. 
The Mother's Day Love Crystal Candle  Is the perfect gift to show mom how much you love and appreciate her.
In VERY limited release.  Each candle includes a sparkly rhinestone pendant  that reads"MOM"
Choose From 2 Options
Option 1 Mom Heart pendant
Option 2 Mom name pendant
Made with genuine Rose Quartz Stone.
Rose Quartz is the stone of unconditional love. It is that same unconditional love that your mom has shown you. Through thick and thin, she has always been there to pick you up, make you laugh, and help you through life. Send back that same loving energy with Mother's Day Love Crystal Candle.
Scent:Daisy
  With top notes of tangy lemon and jasmine; followed by middle notes of muguet lily, rose petals, African violet, and daylily;  sitting on base notes of cedarwood, patchouli, and musk.