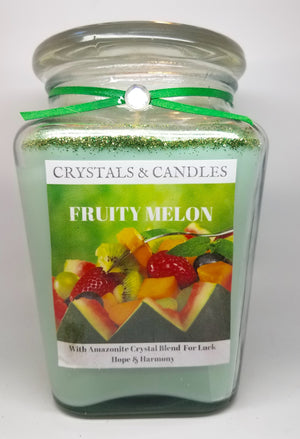 Fruity Melon -Amazonite Crystal Jewelry Candle
Sale price Price $31.99 Regular price
Fruity Melon Amazonite Crystal Candle with a jewelry surprise hidden inside.
Amazonite is a beautiful and vibrant stone with powerful yet gentle energy. 
Amazonite is a known " Luck" stone. and a stone of success. Often referred to as a "Lucky Hope Stone".
Its energy can assist you in working toward your dreams/goals, staying on track and finishing to completion. When working with Amazonite, a sense of hope is gained in that all  your dreams can be realized ,with a knowing that you can achieve all that you strive for. A truly uplifting energy.
Amazonite provides a feeling of happiness and joy.It  soothes the nervous system and calms negative emotions such as resentment, anger, jealousy, and fear. Amazonite will help you take charge of your life and help you to get in touch with your inner power.
21 oz
Scent Fruity Melon(A Cucumber Melon type fragrance)