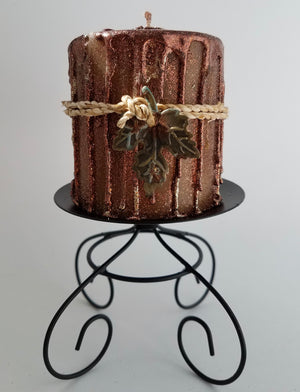 Fall Into Success Dripped Pillar Candle
Sale price Price $9.99 Regular price
Beautiful  2.5 x 2.75 in Dripped Design Pillar Candle With Tiger's Eye Crystals. 
Each candles is individually crafted unique and may differ slightly from item shown.
Tigers Eye isa  grounding  stones that will aid you  in all your basic survival needs.  It's  powerful energies will help you to conjure up the strength and motivation to work toward all that you want or wish for.
 They will help to bring the following:
-Motivation
-Success
-Release Fear, Disharmony ,Resentment
-Grounds Energy
-Brings Calming,Centering  Energy
-Protective, Cleansing Away Psychic Smog
-Negativity Shield, Relieve Negativity
-Increase Self confidence & Belief in Yourself
-Stimulates Your Ability To Manifest Your Dreams And Desires
For $4 more you can include the Wrought iron stand. Makes a beautiful presentation . Choose option from dropdown menu.