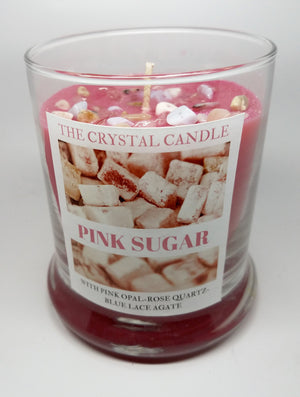 Crystal & Candles Pink Sugar Status Jar Candle
Sale price Price $20.99 Regular price
 The Pink sugar candle is a limited Edition Valentine's Candle with holiday gift box.
This special candle includes the following powerful genuine crystals:
Rose Quartz-Love, Compassion, Strong relationships (Both romantic & platonic)
Pink Opal-  Helps you to bring that feeling of love and romance  back into your life. Keeps you emotionally balanced and centered. Pink Opal clears and calms the heart and brings a sense if peace and tranquility to your aura.
Blue Lace Agate- For loyalty, trustworthiness , and communication
 12.25 oz of pure sugar bliss.
Scent- Pink Sugar