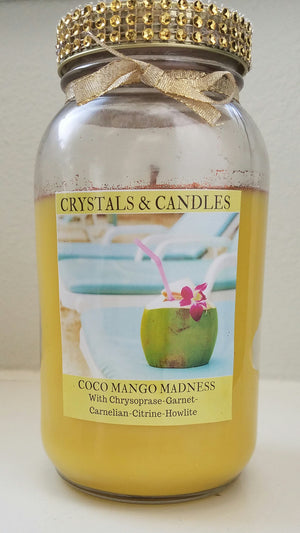 Crystal & Candles- Coco Mango Madness
Sale price Price $29.99 Regular price
Coco Mango madness is fruity escape into tropical bliss. We wanted to capture the energy of the island vacation. One that is sexy and hot, while being relaxing and sensual at the same time. Just they way you feel when you are vacationing on the beach. 
This special crystal candle includes the following energy crystals:
Garnet- For that sensual passionate feeling
Chrysoprase- promotes belief in your self worth. A stone of balance that equalizes yin/yang energies and allows deep meditation.
Citrine- Happiness and confidence
Carnelian- Boosts personal power. Carnelian helps you to manage your negative emotions such as anger, free, rage envy, sorrow,and jealously. 
Howlite- Feeling of calm and stress free 
Candle come in 32 oz Mason jar